Nicole Elizabeth "Snooki" Polizzi
(born November 23, 1987). Nicole is a drunken guidette that we all love, comes to Jersey Shore intent on meeting the man of her dreams.
Biography
Born in Santiago, Chile, Snooki was adopted and raised by Italian parents in upstate New York. A cheerleader in high school, Snooki overcame a serious eating disorder and now feels more comfortable in her 4' 9" body. She is a fashionista who goes to the gym in full makeup, hoping to make an impression on all the toned men. With her firecracker personality, Snooki feels her height has been as much of a strength as it has been an obstacle, and her focus on it could impact her time at the Shore in a big way. However, one thing Snooki is good at is partying and her true, drunken personality shines bright in the unpredictable Jersey Shore lifestyle. Her love of pickles, "poof" hairstyle, small size and naturally charming personality solidify Nicole as the most popular Jersey Shore character. Like most Guidettes, she suffers from an uncontrollable urge to visit tanning salons. . Following the show's finale, Snooki has been the most active and invasive Guidette from the series. Nicole is Chilean-born. Snooki appears in the spin-off, Snooki & JWoww. Snooki gave birth to a boy named Lorenzo on August 26, 2012. Snooki since has lost 42 pounds since her post pregancy.
Jersey Shore History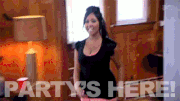 Nicole "Snooki" tells that she loves "Guidos". She tells that she has a loud mouth. The roommates drive to the Jersey Shore and at Seaside Heights, they meet up at the house and Nicole comes in and automatically gets to know everyone and asking for drinks. The roommates get to know everyone and Nicole gets drunk and starts to have a good time with everyone. She starts rubbing herself on all the guys in the house and when they ignore her,
she becomes Ms. Drama Queen and goes upstairs to the bed on the deck and pouts. The boys take to the hot tub and Nicole gets into the Jacuzzi and starts to get on all the men. The other girls are disgusted with the fact that Nicole is in her bra and thong in the Jacuzzi. The boys talk about how Nicole is such a whorey Jersey girl. Nicole passes out while everyone leaves. Nicole wakes up and calls her Dad and the rest of the roommates are at a carnival. The next day, the group wake up and Nicole is sick in the bathroom from partying too much while the rest of the roommates leave to go to meet with Danny. They arrive at the T-Shirt shop and Danny asks where Nicole is. Later Nicole comes into the T-Shirt shop and Danny tells that she has this one chance. She is very serious and apologizes. They come back and Nicole wants to know why they are shunning her out. She tells that she doesn't want to be the unpopular one. Sammi tells that she didn't want puke breath on her. She tells that she wants to be liked. Nicole tells that she is sorry and that wants to have fun. Sammi tells that she appreciates that and they tell that all is forgiven. Later that night, Pauly D and Mike want to go fishing for girls and see three girls down in the street and they invite them in. They go to the hot tub and Angelina and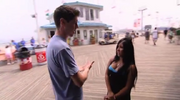 Sammi want to go up there to spy on the boys, Jenni downstairs and Angelina and Sammi come down and talk about the guys in the Jacuzzi with the some slutty girls. The guys get done hanging out and the girls invite them to their place. They agree and the girls go downstairs to wait. However, when the guys get back inside, the girls are not happy about the girl taking off her underwear in the Jacuzzi. The girls try to get inside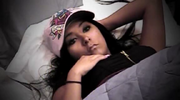 and the other roommates tell them to leave. They tell that it is the same if they bring in a guy and wouldn't want to see them kissing them. Ronnie tells that is why he told them not to bring in the girls. This entire time, Nicole thinks that they are talking about her. Nicole calls her dad and tells that she thinks that she is going to leave. She tells that she messed up and he tells that she is not a quitter. Sammi feels bad and the rest of the girls try to talk her out of leaving, but she has the feeling that she needs to go home. (A New Family)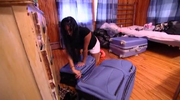 The scene opens with Nicole "Snooki" talking to her mom and dad and packs up her bags, Nicole and Sammi talk about the fact that she is going home. Sammi talks to Nicole and tells her that she needs to build up some self esteem and Nicole tells that she is not a strong person but it is clear that she is rethinking her decision to go home and Nicole decides she is going to stay and tells everyone. Later that night At Karma Nicole then wants to take a guy back to the house with her Nicole brings back the guy Nicole and her new fling go up to the loft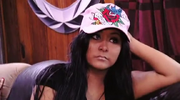 and start talking and eating then Nicole wants to make-out with her guy she brought home but he pukes. She goes downstairs and she tells that her boy is puking. Vinny and Ronnie tell her that she is not getting anything and Nicole gets offended that they thought she was going to have sex with a stranger. She walks the guy home and they say goodnight. (
The Tanned Triangle
)
At the House while Mike,Ronnie and Sammi are at work Pauly asks Nicole who she is going to hook up with and Nicole tells that she is not going to hook up with anyone. She takes out a pickle and starts eating it sexually, to which she plays off as normal, Later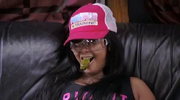 At a bar, Nicole meets up with her friend Ryder and she has been Nicole's friend for a while then Nicole brings Ryder over and they go into the hot tub then guys get in and girls and Nicole kisses Ryder and starts making out with her Then she switches to Mike and starts to get a little bit more into it. (
Good Riddance
)
Nicole calls her mom and they have plans to have her come up for her birthday and then later at Karma Nicole meets a guy named Russ and he is a total gentleman with her and after when to go home Nicole told the guys Mike and Pauly to not leave without her and because of meeting girls they leave without evening remember about Nicole and she then decided to let Russ walk her home and take him back to the house But Meanwhile, when going home Nicole and Russ get lost and Nicole takes him to the beach The next day, Nicole wakes up next to Russ and nothing happened. She tells that she wasted another evening Later, Nicole spends the day with her mother and they go on the sky-ride and have fun at the beach. At the end of the day, her mother goes home and Nicole cries and says goodbye then The roommates go out and have fun on the beach. The episode ends with the roommates at the bar with co-workers. Nicole tells that she doesn't feel like an outcast anymore. Three guys from a Fraternity talk to the roommates and they start to take their shots. Mike tries to intervene to calm things down and one of the guys punches Nicole in the face for getting into his face for stealing the shots. (Fade to Black)
The scene opens with the bar again and the guy punches Nicole "Snooki". She is on the floor crying and they rush to Nicole's side. The guy is arrested. She is bleeding in the bathroom and Room mates look at Nicole and Vinny tells that the man is going to get what he deserves. Nicole sees the medical examiner and he gives her an ice pack. Jenni walks Nicole home. At the house, Ronnie is blaming Mike for instigating the punch in the face, but Mike tells that he was shocked. Nicole gets home with Jenni and she goes to bed and cries. Ronnie goes inside and comforts her. Mike joins in. The next morning, Jenni and Nicole go out to lunch and Jenni tells that she will drink with Nicole, but when the drinks come, Nicole can't drink them because of the numbness of her left side of her mouth then later back at the house Nicole calls the police department and finds out that the man who hit her in the face was released on bail and The roommates tell her that he is going to be charged with so many charges. then next day the roommates go on a boat called "Forget About It" and they go to a boat party. They are dancing and having a good time and Sammi and Ronnie watch from above. Nicole is lighting up and is about to get a guy's number when Ronnie tells that they need to leave and throws her into the water. She tells that was not cool. As they ride back to the coast, Nicole is upset with what Ronnie did. Later that day, Ronnie tells that the girls and him are going to Club Bamboo and leaving them alone Meanwhile at Club Bamboo, they are dancing and having a good time until a girl calls Nicole fat and Jenni throws her drink in her face and starts attacking the girl. There is hair pulling and sucker punching going on Then the roommates at Bamboo are kicked out and they head over to Karma Club. Nicole tells Jenni how she was and that she was like a monkey coming at them. They are happy of Jenni sticking up for Nicole. (Just Another Day at the Shore)
When all decide to go to Headliners and have fun At the bar Nicole meets her friend Mike at the club and she tells that she wants to take him home then on the way home on the cab when the other roommates still want to go out and look for girls Mike and Nicole are in the car and she tells if he wants to meet girls then he can go then He gets out with the other Mike and Nicole feels betrayed and when Mike Nicole's friend, comes back and Nicole doesn't want anything to do with him but then when Mike asks Nicole if she can tell Alex friend's who came with her to leave. She agrees Downstairs the girls are there and Nicole tells the ugly girls that they have to leave. However, this makes Alex leave too and then talk trash to Nicole as they leave. Nicole gets in their face and a fight commences in the front. In the process, Nicole gets smacked in the mouth and tells Mike to not bring those type of girls. Inside, Nicole is mad at Mike and comes out and beats him with an inflatable monkey. They mess around and all is better then later in the episodes at the night bar Nicole sees Sammi and Ronnie at the bar and not having fun again. She goes over and tells that they need to have fun and they get insulted. (Boardwalk Blowups)
Sammi asks if Mike and Pauly. have a problem that her and Ronnie being together and they tell that they don't. Ronnie and Sammi ask Nicole who everyone is that hates that her and Ronnie are together. She tells that she didn't say everyone and tells that her and Jenni were saying things. Later that night, Ronnie and Sammi are in bed still talking about the incident. The next day Ronnie wanted to forget about it wants to end it. He walks up to Jenni tells that she told Nicole that they just needed to talk with Ronnie and Sammi. Ronnie goes up to Sammi and tells that Nicole is not their friend and tells her not to confide in her. Later that day, Nicole walks into Jenni's room and apologizes to Sammi and Ronnie. She tells that she wants to just hang out before their time is over. Sammi takes the apology to Jenni too and they are all friends again. That night they all go to a club and Nicole find this nice cowboy guy and is walking with her cowboy and talks with him the entire night. but while Mike who took Paula Pickard home that night and they are getting it on in the Hotub, Nicole and the cowboy come up and Mike takes the business downstairs. when they drive to Atlantic City and when they do get there, they all fall asleep except for Nicole, who decides to take a bubble bath in the Jacuzzi bath. At dinner, the roommates all gather and the insults start to fly. First they are joking until Nicole tells that no one likes Mike in the house. He gives her a low blow back and tells that she already has rolls when she asks for some more dinner rolls. This causes her to leave crying. Everyone is mad at Mike for calling Nicole fat and he tells that she was attacking him and he reacted. He tells that he will apologize to her for it. Meanwhile in the bathroom, Nicole admits having an eating disorder back in high school and tells that Mike needs to get his. She tells at the hotel that she just got over the eating disorder a year ago. Mike goes up to Nicole and apologizes to her. As the night goes on, Nicole forgets about the entire fight and they dance. (What Happens In The AC)
Mike tells that he wants to pull a prank so he puts pickles in Nicole's bedroom and then makes a stinky container of mixed dairies to Vinny's bedroom for talking crap about him. He wakes up and Ronnie tells that Vinny's bedroom smells. Nicole wakes up and smells the pickles. She is only upset because Mike wasted pickles. They go out to the club is seen Nicole is making out with a guy and these girls come over and tell that the guy has a girlfriend. She leaves immediately and then meets up with another guy who is nicer. They walk off and a girl keeps harassing them and tells them to go back to New York. Her boyfriend jumps in it and Ronnie tells him to back up. After having security break them apart, Ronnie is still upset and goes back and knocks the guy out cold. The cops come by and talk to Ronnie. They arrest him and Sammi is upset that Ronnie got himself arrested over nothing. (One Shot)
On being last weekend at the shore Nicole wants to ask Keith the cowboy out for a date and her and Jenni "Jwoww" talk about what she should say. She calls and leaves a message. Later at the T-Shirt shop, Jenni sees "Juice-Heads" and is really attracted to them. She goes home and wakes up Snooki and tells that there are "Juice-Heads" meaning a hot, Italian, tan guy that loves working out. However, when they get to the beach, there are none to be found. Then the whole gang gos and hits the beach and but Nicole wants to go back to the house and calls Keith. He picks up and is shocked that Nicole is asking him out and basically tells that he is not interested in her. She goes out on the boardwalk and sees some guys upstairs and then starts to dance on the boardwalk. Other people join in and start dancing. She looks up and sees her ex-boyfriend, Justin. He asks how she is and she is upset that he doesn't want anything to do with her. She goes back home and cries. The boys get home and Mike finds Nicole on the balcony crying. He tells that if a guy doesn't like her, then she needs to just forget about it. She goes inside and the guys tell her to forget about it. They make her happier and she tells that she doesn't want to leave everyone and tells that they all love each other. Later that night Nicole wants to go to the hot tub and the rest don't want to. Mike joins her in and they get flirty and Nicole is ready to hook up with Mike. However, before anything serious can happen, Mike leaves because he thinks of Nicole as a sister. at the end of Jersey Shore when roommates pack up their things and get ready to leave Nicole leaves and tells that she grew a little bit and has a lot of best memories and she tells that she made the house. They flashback to her being a crazy girl at the beginning and she tells that she is part of the family. She did it on her own. Thus they end the Jersey Shore. (That's How The Shore Goes)
In going in to getting ready for leaving to Miami Nicole has a boyfriend named Emilio and she tells that if something happens in Miami, then she is not going to stop it and She is using spray on tan because of Obama putting a tax on tanning booths and tells that he did it because of them. Nicole picks up Jenni and they go to Miami together. All the roommates are on the road and Mike and Pauly want to get to Miami first and meanwhile, Nicole and Jenni have the same plan but Meanwhile, Nicole and Jenni stop in a bar in Savannah, Georgia and it is empty. They decide to just get some food and they try so fried pickles. Nicole is in love. A man comes over and they get him to Fist Pump for them and Nicole thinks he is crazy. Nicole and Jenni finally arrive at the house last and walk in and see Angelina there too. Jenni tells that she just wants to be roommates and the three other girls walk off and they seclude themselves in the room and They start talk about Angelina and how she talked crap about them. Mike tells Angelina that she needs to handle things. (Goin' South)
The girls go to a sexy costume shop and pick out some cute outfits and Nicole picks out Sparkly sunglasses that she is in love with and she has to be them even if costing more then they look. At the house, Mike is preparing for a feast of chicken and potatoes and tells everyone to watch out for the chicken on the top shelf. Nicole comes home and the chicken falls on the floor. Vinny helps pick it up really quickly, but the chicken is ruined. Meanwhile, the phone has been ringing non-stop and Angelina has been on the phone the entire time. Jenni tells that Angelina was talking about how Tommy is not good enough for her and she made fun of Nicole's boyfriend. Nicole goes outside to where Angelina is and asks why she talked crap about her boyfriend and she denies it. Sammi joins the converstation and the boys are enjoying every moment. Jenni comes out and tells that she was running her mouth. Jenni tells that if Angelina stays then she is going to be beaten up. Ronnie asks if the boys want pretzels to enjoy the show and Mike tells that he knows first hand what Jenni can swing. One of Angelina's friends calls and Nicole picks it up and tells that Angelina died. He calls back and Angelina picks up. The guy on the other end asks how Angelina died and Angelina tells that she is not dead. (The Hangover)
While getting ready to go to the club Nicole has the "poof" and is looking hot. At the club, Nicole sees Angelina by herself and tells that if she was to just confess that she was talking crap, then they would be cool with her. She admits it and tells that she won't talk crap about them anymore. Jenni hears this too and agrees that they will be nice. Everything is going good until Ronnie tells Sammi to go home for being mellow. After she leaves, Ronnie starts dancing with a bunch of girls and Nicole sees it. She approaches him and he pushes her. Mike, Pauly and Vinny escort him home and tell that he shouldn't be pushing Nicole. Nicole calls Emilio late that night and Vinny is sleeping on the bean bag chair. She laughs and knocks over the desk holding the stuff. They get to bed and Vinny asks if Nicole wants to sleep in his bed and she asks if he wants to have sex and he agrees. The next day, everyone wakes up and Vinny wakes up with Snooki in his bed and finds his clothes everywhere. He walks out and Emilio calls and asks where Nicole is and he tells that she is sleeping. The next day, Mike and Nicole are at the Gelato shop and she is too short to work. The owner gives her a stool and starts to teach her what she is supposed to do over and over again. Nicole goes outside and sits on the dog statue outside and finally their shift ends. Back at the house, the boys are thinking of going out and the girls are thinking to go out to eat and Sammi and Ronnie are in bed. She tells that she is going to stay in bed and Ronnie tells that he will be going out with the guys. She tells him if he wants to go, then he can, but she is going to be in bed. He leaves to the club and Sammi is sad because she is afraid that he is going to hook up with girls while there. At Klutch, Ronnie is dancing with a bunch of girls and meanwhile, Jenni and Nicole are fighting at the fact that should they or shouldn't they tell Sammi of Ronnie's behavior. She doesn't know and tells that they have a hard decision to make. (Creepin)
Jenni and Nicole are at the restaurant thinking to whether tell Sammi or not about Ronnie's cheating. Nicole gets home and wants to call Emilio. She does but he is at a noisy place and tells that there are half naked girls everywhere and to leave him alone. She goes in Sammi's room. Sammi "Sweetheart" is shocked and tells that it is alright. She gets up out of bed and asks them if they know of anything. Both Jenni and Nicole are speechless and they hold their tongue. Nicole and Jenni talk about the fact that whether or not they should tell her. Sammi comes out and tells that she is done with Ronnie for the fact that it is 4 am and they aren't back yet. Nicole gets a call from Emilio and he tells that he had sex with a girl. Nicole tells that they are over with and slams down the phone. He calls again and Jenni tells that if he calls again, they are going to call the cops and she will kick his butt. Nicole is happy that Jenni did that. They get angry and smash a couple dishes. It is morning time when Mike, Vinny, Pauly and Ronnie go home and there is a mess everywhere. they find out that Nicole broke up with Emilio. Later in the episode Nicole and Jenni go to the Cybr Café and write the letter telling all about Ronnie and his little "secret". Later at the house, Jenni and Nicole tell Angelina that they typed up the letter and that they need to give it to her somehow now. They have a hard decision to make again. (Breaking Up)
The scene opens with Angelina and Nicole telling that they made the letter and they tell that they are doing good by her. Angelina says that she doesn't want to get involved. Jenni and Nicole go to a club and dance with two gay guys. . Jenni and Nicole get home and Nicole calls Emilio. She tells that she danced with gay guys and he tells that he is going to dance with lesbians. He is not liking their relationship and Nicole breaks it off with Emilio. However, it is clear to Nicole that she is not happy breaking up with Emilio. Ronnie is leaving out with the boys and kisses Sammi goodbye. Nicole goes up to Angelina and tells that she needs to clean up and she blows her off. Jenni and Nicole go out and Nicole breaks down about dumping Emilio. Later At the dinner table, Nicole tells that she is now single and they all congratulate her from breaking up with Emilio. After dinner, everyone is chipping in to clean up including Angelina. Nicole tells that the girls are going to cook dinner next time and that they boys are going to be able to clean. Later, Nicole burns pictures of Emilio and the roommates join in the ceremony. Afterward, Jenni and Nicole talk about planting the letter. In their room, Jenni puts the note in Sammi's drawer and get out of the room. Nicole wakes up Mike and tells that they need to get to work and Jenni and Nicole are happy to be going to work. On the way there, Mike tells that he is asking for a raise for the amount of work that he does. Jenni tells that he doesn't do any work. Meanwhile at the house, Sammi finds the note and asks Vinny and Pauly what is the note and if they wrote it. They have no clue and lie and say that Ronnie didn't do any of it. At the Gelato shop, Nicole and Jenni are talking about whether or not Sammi found the note. Meanwhile at the house, Vinny tells Ronnie that Sammi found a note and it tells of Ronnie's cheating. He goes up to her and she hands him the note. He is furious and tells that he did get a girl's number and tries to deny that he didn't hold any girl's hand. He is upset and he tries to talk about it, but Sammy doesn't believe him. She gets up after he tries to tell her that he loves her. Angelina tells that she doesn't know anything about the letter. At the Gelato shop, Jenni and Nicole are scared to go home. Sammi talks to Ronnie and he is trying to save his butt and she asks if he made out with anyone and he tells that he did not, but they show a clip of him kissing two girls at the same time. They continue to fight and she tells that they are done. Ronnie, Vinny, Pauly and Angelina go out to cool off. Jenni calls and Sammi picks up. She asks if they left her a note and she tells that she found a note of all the stuff that Ronnie did on it. Jenni goes outside and talks that she doesn't know of Ronnie. She tells that she is bugging out and doesn't know. They get home and Mike makes a joke and laughs about it. Mike tells that it is the truth if it is on paper. Jenni tells that if she goes back to Ronnie, then she is an idiot. Ronnie gets back and thinks that Jenni and Nicole wrote the letter and isolates himself from them. (The Letter)
The scene opens with Nicole and Angelina and Jenni outside partying and Nicole goes into Vinny's bed and sleeps with him. The next day Nicole tells Sammi that she had sex with Vinny and tells that she had fun. Later Nicole wants to tell Sammi and asks Angelina to tell Sammi to come outside. Angelina tries to get her to come out and she refuses. Jenni is insulted by this and tells Nicole to do it and she tells that she doesn't want to deal with it and walks inside. She tells that Sammi is an idiot for not going to talk to her friend and Sammi gets in her face about the fact that Jenni wanted her to go outside and talk. She tells that Sammi is too stupid to see that Ronnie is hooking up with girls and then going in Sammi's bed afterward. She spills that all the roommates knew about the issue. However, she doesn't fess up to writing the note. Ronnie goes up to Sammi at the bathroom and asks if she is alright. She tells that she will be alright. Sammi goes in to talk with Jenni and Nicole and tells them that she is not herself and doesn't know what to do. Sammi goes outside and Ronnie tries to talk to her, but she tells that she doesn't want anything to do with him. Next Morming the girls wake up because today is the day where the girls are cooking dinner. Nicole calls up her ex-boyfriend up because he is a chef and asks how to make something. He tells her a list of ingredients and how to make it. They go shopping and get everything. Nicole misplaces the list of ingredients for the night's dinner. The roommates go to Tantra and Sammi and Ronnie are together and Jenni tells that she is a walking time bomb. In the car, Pauly is really drunk and Angelina is trying to hook up with him. They get home and Ronnie puts Pauly in bed and Jenni tells Tommy that she is home safe and that Pauley is throwing up. Angelina decides to tell Sammi and Ronnie that Jenni is talking crap about Paulie. Vinny walks in and corrects Angelina and she keeps going on. Vinny tells Jenni and she comes out and gets in Sammi's face and they push each other and the episode ends. (Not so Shore)

The scene opens with Vinny complaining about how Angelina is talking crap about everyone. Jenni "JWoww" and Sammi argue and They start fighting. The other roommates try to break up the fight. Then Ronnie and Vinny start fighting a little bit too. Nicole tells that Angelina started the crap and Nicole tells that Jenni and her wrote the letter. She tries to show her ground but she and Jenni go outside to cool off. They go outside and Nicole is pissed. Melissa, Mike's sister, tries to show condolences by offering support. Jenni walks in and tries to throw a plate at Ronnie for running his mouth. Later in bed, Jenni and Nicole talk about how they feel bad about writing the note and that Sammi was trying to be a good friend to Angelina but they are still mad at both of them. Next night back at the house, Jenni and Nicole want to have a fun time at the club. Vinny tells Sammi that he wants to talk to her and says that Angelina is the one that told Nicole and Jenni to write the letter and what to put in it too. Sammi and the rest of the house decide to go to the Pool Hall and play some pool. They are having a fun time until Nicole and Jenni enter. Tension rises but they separate themselves from everyone. Nicole goes up to Mike and says hello. But the "guidettes" and quidos are respectable and don't fight in the Pool Hall. Next day Nicole and Jenni go to the beach and Nicole tells that she wants to go to a Nude beach. Jenni tells that she would not go and Nicole tells that she wants to go bungee jumping. Jenni says that Nicole has white person syndrome because only crazy white people go bungee jumping. Nicole tells that she isn't white, she's tan. that night roommates decide to all go out to a club. They all dance and have fun and Nicole has a good time too and brings home a man she meets named Dennis. Nicole snuggles and moans while Jenni is in the room. then while the roomates decide to go to the club again. Nicole and Jenni stay home and Nicole calls up Dennis and tells that she and Jenni are staying in and for him to bring over a friend for Jenni. He tells that he will try. Nicole and Jenni disinfect the "Smoosh" room and Nicole gets ready for Dennis to come over and they have fun throwing condoms and underwear at each other while they are dressed in plastic bags. Dennis comes over and his friend is a "Male Grenade". Right away Jenni doesn't like him and he leaves really quickly. Meanwhile, Nicole and Dennis "Smoosh". (Sleeping with the Enemy)
The scene opens with everyone getting up Mike "The Situation" and Pauly are asking Angelina if her and Vinny "smushed". She doesn't say anything and they take it as she and he did. Mike is telling the rest of the household and Snooki calls Angelia a whore for sleeping with someone when she is dating Jose. Snooki and JWoww sit down and tell how Angelina is a "loosey goosey" and that Snooki is not jealous that Angelina hooked up with him because she is just getting her sloppy seconds. JWoww tells that she wishes that she could be the one to tell Jose the truth about Angelina. Back at the house, Vinny's mother come and Uncle Nino comes in and everyone in the house is happy that he is there too. Later Uncle Nino is in the hot tub and JWoww comes out in her bikini. Uncle Nino is excited and they are joined up with Snooki, Pauly, Mike and Angelina. Snooki tells that Angelina hit the volleyball in her face and tells that she is not going to start a fight in front of the family, but the insults fly and water and things are thrown. They remain their attitudes and Angelina goes inside. Vinny says goodbye to his family (All in the Family)
Angelina lies and tells that she "smushed" with Jose. Except this doesn't let up the teasing, it makes it worse and Jenni "Jwoww" and Nicole laugh about it and tell that Angelina is giving the guys something to tease her about. When Jenni go to work she calls up the house to wake Nicole up and Angelina picks up. She asks her to get Nicole up for a nail appointment. Angelina tells that she will. However, when they get home, Angelina is on the phone and Nicole is still asleep. Pauly goes inside Nicole's room and carries her out. The two girls get their nails done for the arrival of Jenni's boyfriend, Tommy. Afterward, Nicole climbs back into bed. A Day later At the club Angelina is dancing with a guy that Nicole hooked up with before and Nicole doesn't care that Angelina is getting her sloppy seconds, Nicole keeps getting hit on by "male grenades"(Dirty Pad)
When at work, Nicole writes her "Ideal Guiddo" list and Anso, the manager at the Gelato shop tells her to get some work done, and when Nicole gets home and shows the list to Jenni. She tells that they have to find a guy for Nicole. The news of Angelina probably leaving gets everyone pumped up and they are excited that she might be leaving. Later that evening, they go to the club without Angelina and have a better time than usual. Nicole is looking for her "Ideal Guiddo" and settles with a guy that Angelina hooked up with a little bit ago, Alex. Meanwhile at the house, Angelina packs her bags and waits for the roommates to get home so she can tell them why she is leaving. The roommates get home and Angelina sees that Alex is with Nicole and asks why he is. She tells that they are fake and that Alex shouldn't be with Nicole. He listens to Angelina and Nicole tells him to stay over by Angelina. She gets into her face and they start fighting and which ends, to Angelina leaves Jersey Shore once again.(Gone, Baby, Gone)
Snooki shows up at the house with long time friend Deena. Everything is fine until Sammi pisses them off and then theirs a fight which leads Snooki to call Sammi a slutty ass bitch and a dumbass. In Where's The Beach? Sammi aplogizes to Snooki and Denna and Snooki gets arrested in this episode for being a nussience on the beach.
In Italy, Snooki starts dating a guy named Jionni, while in italy with the cast , Mike confesses that he and Snooki hooked up two months ago and a day before they lift jersey. Jenni tells Snooki she needs to speak with her and that it's an emergency and confronts her on what Ronnie told her about Mike and Snooki. and the type of realeship that between then Later, Snooki confronts Mike and tells him he's a dick and she never wants to talk to him again.
Later that day, Snooki tells Jionni what has been said and what has been done about after the phone with Jionni it leaves her heart broken and a few hours later , nookie and mike have a massive fright about the whole situation after the fright things for him started to cold down with him and snookie but that dosent mean it is over with mike and ronnie when they have a fright about everything that has happend in the last few seasons aka with mike playing both sides and and sitting down and relaxing when all of it powls up in peoples faceses.
In the final season, Snooki had to move next-door to the shore house as she is pregnant as her being at the Shore House means she can't drink because she is pregnant with Lorenzo. Snooki tells Mike that they aren't friends, but she starts talking to him again and they become friends again.
Triva
Gallery
Quotes
Main article: Snooki's Quotations